EQP-112 Off Car Ignition Coil Tester Our price $330.00+GST
The EQP-112 Ignition Tester is a portable tool for testing a variety of ignition coils off the vehicle to determine if the output spark is acceptable.
Overview
This off car ignition coil tester allows for a variety of ignition coil and ignition coil pack types to be operated off the vehicle to observe and determine the spark output condition.
This test unit is capable of testing:
Standard ignition coils
Ignition coils and coil packs with integrated module
Waste spark coil packs
Coil over plug individual units
Two output sockets on the front of the unit allow for a simulated MODULE OUTPUT for operating standard ignition coils and a SIGNAL OUTPUT for operating Ignition coils with integrated modules.
The sturdy, easily adjustable spark electrodes allow for a gap range to suit a variety of ignition coils and are easily visible during the testing process.
Can output two sets of drive signals at the same time; Has anti-interference ability, good stability, high load capacity;
Small, easy to use;
Output signal divided into "direct signal" and "within module" signal allows ignition coil with integrated module and without module to be tested; Discharging electrode spark gaps are easily adjustable.

WARNING: As with all ignition systems it is important to be cautious of the high voltage output during the testing procedure.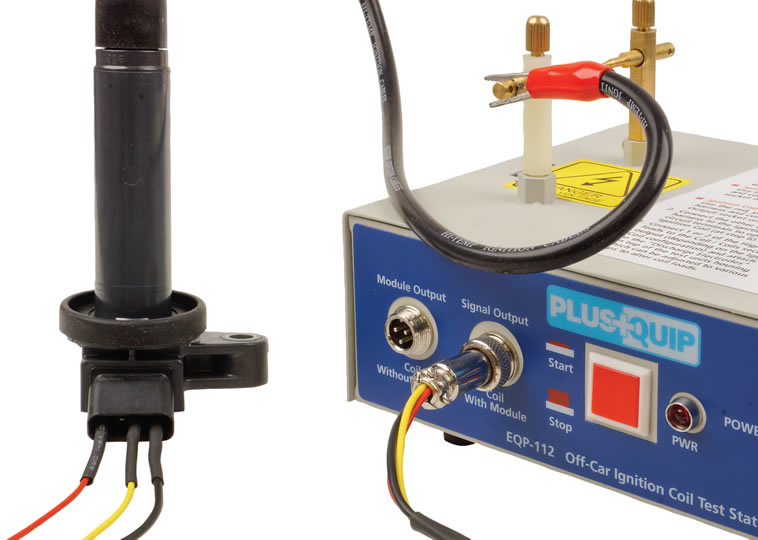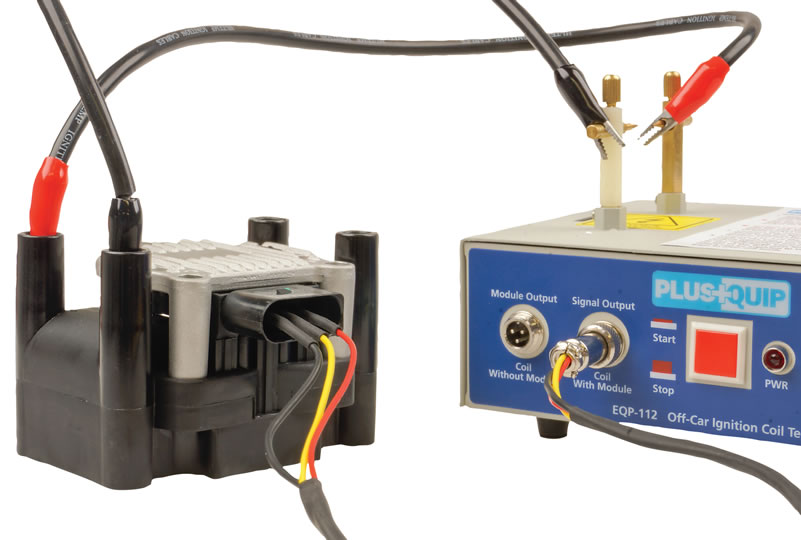 Specifications
Dimensions
Length: 260 mm
Width: 180 mm
Height: 100 mm
Weight: 2.4kg
Power supply: 12V DC via vehicle battery or separate power supply. (Not included) 

KIT INCLUDES:
Ignition Coil Tester 12V
High-Voltage Leads (Red x 1, Black x 1)
Discharge Electrodes (Metal x 1, Plastic x 1)
2-Core Cable for testing ignition coils WITHOUT module
3 Core Cable for testing ignition coils WITH module
User Manual
Bonus – Ignition Coils and Modules Pin Out Diagrams booklet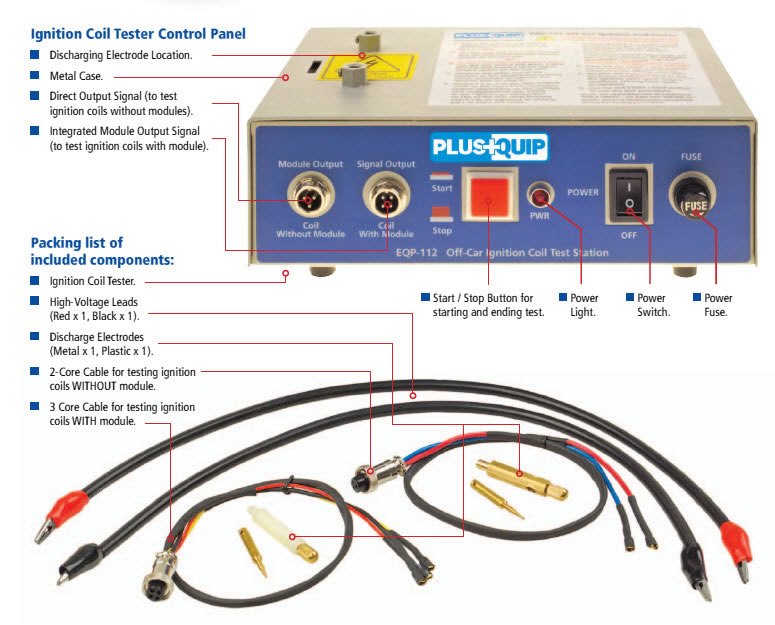 Instruction