Overview
Measure fuel system pressure and flow to identify fuel delivery system issues quickly. Save hours of troubleshooting time by diagnosing a bad fuel pump or other related drivability problem in just minutes.
This comprehensive fuel pressure and flow testing diagnostic and analysis kit is able to be used on both Petrol and Diesel fuels, and can accurately test up to 8 Bar (120psi).
The flow gauge for fuel flow testing, with a visual inspection window, can be used for both Petrol and Diesel for accurate flow rates of up to 3.8ltr/min for Petrol and 3.5ltr/min for Diesel.
Separate low fuel pressure gauge included that can accurately test fuel pressures of 1-3 Bar (100-300kpa)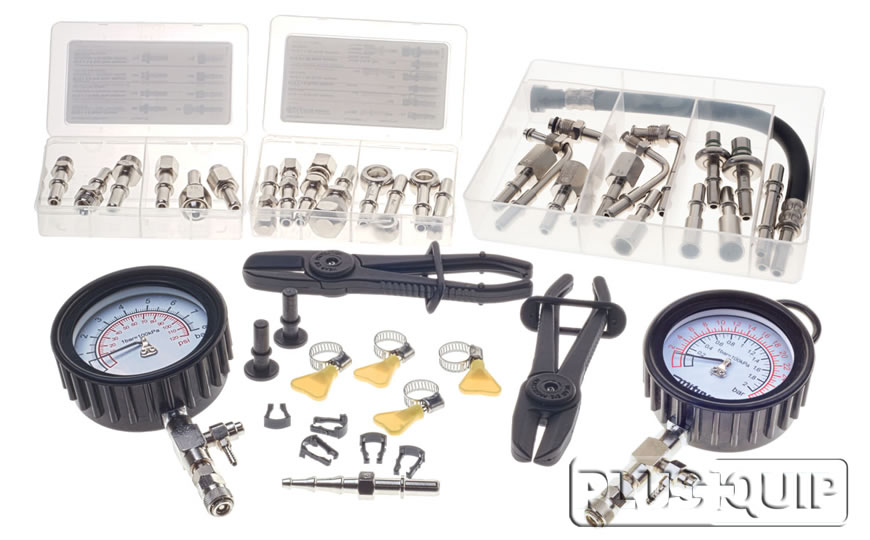 These gauges combined with a comprehensive hose and adaptors accessory set gives the professional technician the best tools required to assist in the diagnosis of most fuel system faults on the modern vehicle, all in a robust carry tool case.
Detect faults in all standard fuel systems, with and without a return line, including:
Petrol
Diesel common rail
Diesel unit injector
Diesel distributor pump
Diesel inline pump systems
Identify:
Blocked fuel filters or filter screens
Defective fuel regulators
Blocked, pinched or constricted fuel lines
Defective fuel pumps and non-return valves
Leaking fuel in tank modules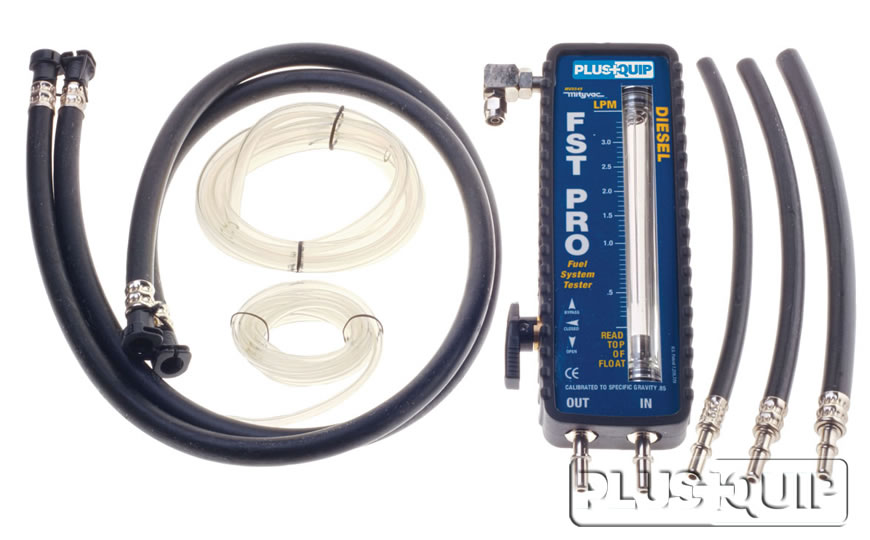 Specifications
Dimensions
Length: 450mm
Width: 240mm
Height: 200mm
Weight: 6.8 kg
Maximum pressure:
8 Bar (120psi)
Flow rate:
225 ltr/h (3.8 ltr/min) Petrol
205 ltr/h (3.5 ltr/min) Diesel
KIT INCLUDES:
3.5" (90 mm) high pressure gauge with rubber boot, relief valve, and hanging hook.
3.5" (90 mm) low pressure gauge with rubber boot, relief valve, and hanging hook.
Flow meter with glass flow tube and flow control valve
1.2 m pressure test hose
Inline pressure test hose
Clear fuel bypass and pressure relief hose
Custom moulded case
Operator's manual
Fuel Hose Clamps
Fuel Hose Plugs
Operator's manual
Adaptors and Fitting Kit – Comprehensive fitting kit including quick connect fittings, standard on many modern vehicles
Instruction